OUR SCHOOL
WHAT MAKES IES COLLEGE DIFFERENT?
Our school is committed to providing a supportive and inclusive learning environment where every student can thrive. With small class sizes and a dedicated team of educators, we ensure that each student receives the attention and resources they need to succeed.
Our curriculum is designed to challenge and engage students at every level, with a focus on critical thinking, problem-solving, and creativity. We believe in nurturing the whole student, which is why we offer a range of extracurricular activities and community service opportunities.
Our graduates leave our school with a strong academic foundation, leadership skills, and a commitment to making a positive difference in the world.
SMALL AND PERSONALISED CLASSES
INTERNATIONALLY RECOGNISED CURRICULUM
COMMITMENT TO AUSTRALIA'S FIRST NATIONS PEOPLES
SMALL AND PERSONALISED CLASSES
IES College is small by design and every student is accepted and celebrated for who they are. A small school means not getting lost in the crowd. Due to the small size of the school, teachers can get to know all their students. Students will receive more one-on-one time with their teachers, who will work alongside them to ensure students are well supported to achieve their learning goals. Small class sizes allow all students the opportunity to have a voice. We are proud that our small size and small classes provide a learning environment where every student is known by all staff and are fully supported by every adult in the environment. 
INTERNATIONALLY RECOGNISED CURRICULUM
The International Baccalaureate (IB) Diploma Program is an internationally recognised pre-university level qualification. It supports graduating students to study at both Australian universities and universities overseas. The academic rigour of the IB curriculum and subjects such as the Theory of Knowledge (TOK) and the Extended Essay, prepares students to adjust more readily to university expectations. Secular private schools such as IES, strive to achieve the best in all its students. 
INVESTING IN EDUCATION
As a not-for-profit organisation, IES has a clear mandate to re-invest in education and powerful engagement opportunities that enrich the lives of our students and the community.
We live our passion to improve social cohesion in Australian schools, communities and workplaces. Working in partnership with SBS, we have developed ground-breaking Cultural Competence Programs that are now being embraced in workplaces around the country. We're proud to be leading in this field and our expertise flows through all our learning environments.
COMMITMENT TO AUSTRALIA'S FIRST NATIONS PEOPLES
IES College acknowledges and pays respect to the past, present and emerging Traditional Custodians and Elders of this nation and the continuation of the cultural, spiritual and educational practices of Aboriginal and Torres Strait Islander peoples. We live, work, and learn on the lands of the Turrbal and Jagera peoples who are the traditional custodians of the lands and waters of Meanjin- the Brisbane area. Through our extensive collection of artworks created by female First Nations artists and our close and respectful connections with these artists, we are committed to fostering a culture of learning from and working with First Nations peoples in the spirit of reconciliation.
AWARD-WINNING
IES College is proud of the reputation we've built for delivering high-quality, innovative educational experiences and services. We have been awarded several Queensland State Government awards recognising our exceptional client service, including the Best Pathway Program and Outstanding International Student Support awards. We have also been honoured with nominations in several industry awards, including the Lord Mayor's Business Award for Excellence in International Education Delivery.
NO UNIFORMS
At IES College, students are not required to wear uniforms. Students who choose their clothing each school day learn to adapt to social standards and contexts, which are skills they will need as adults. Our students choose what they wear to school based on their individual style and an agreed set of dress standards.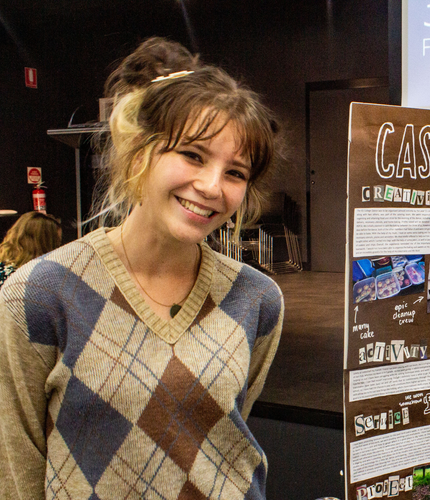 I am currently a student graduating from year 12 this year and can confidently say that my experience at IES has been wonderful. The International Baccalaureate is intense, but my teachers have been so helpful and understanding. It is clear that they are passionate about what they do (a nice change coming from my old school). The guidance counsellor is so lovely and the receptionists always give a friendly wave and get to know students personally. Despite being less than three years old, the school has cultivated an accepting environment where I feel comfortable participating in classroom discussion and talking to my younger and older peers. I love the no-uniform requirement and being so close to the city. My cohort is made up of only thirteen students, so students have ample opportunity to meet with teachers one-on-one (my physics class is only three people!).
— Mia Halvorson, Current Year 12 student